Great Australian Bight Cruise – A Seafood Safari
How about kicking off the New Year with a seafood safari across the Great Australian Bight?
Revel in a sumptuous lunch at one of the McLaren's finest wineries, sample the many delights of famed Kangaroo Island and wash down oysters with champagne in beautiful Coffin Bay. Then mix-in some cage diving with great white sharks, close encounters with charismatic seals, swimming with giant tuna and, some of Australia's most reliable fishing action and you've got a safari with a difference!
Experience all this and much, much more aboard the revered TRUE NORTH.
North Star's Southern Safari cruise departs Adelaide on January 14 and we are now able to offer our 20% Standby Rate. Prices start from just $5196 and include the 8 night cruise, all activities and a return flight from Ceduna to Adelaide.
The coast between Adelaide and the Eyre Peninsula is one of Australia's best kept secrets – not only do you get to tick-off bucket list items like visiting Kangaroo Island and cage diving with white sharks – you also get to visit a part of Australia that has a very special flavour. Sometimes it's typically Australian – rugged and isolated, then at other times you encounter rolling hills and farmland but the one constant seems to be the region's unique sense of community!
We taste it every year and we can't wait to do it all again!
So don't miss-out – wrap-up this very different cruise as the ultimate Christmas gift!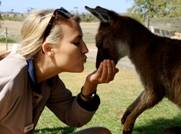 Southern Safari Cruise