True North Adventure Cruises maintains an active philanthropy program when operating in West Papua and Papua New Guinea.
Each year the TRUE NORTH delivers significant donations of clothing, school resource and sporting equipment to the many villages and communities that are included in our cruising program.
We also provide school sponsorship, support the efforts of Conservation International and, provide other day to day assistance wherever possible.
Here are some examples of projects that we have been involved in:
The urgent transfer of an expectant mother to medical care.
Alerting Australian authorities following the discovery of villages severely affected by flooding and mudslides. The Australian government subsequently provided immediate assistance.
The diagnosis (courtesy of one of our guests) of a serious infant condition and, subsequent transfer of the patient to medial facilities.
The discovery of a young girl suffering from horrific burns following a 'grass skirt' fire. Generous guests on the TRUE NORTH arranged for the girl's evacuation and life-changing treatment in Australia. Without this assistance, this young girl's prospects were very bleak indeed.
Guests on a TRUE NORTH cruise also made a bit difference to the life of a young man with a cleft palate – see the story below.
Supporting Sepik River communities. The Sepik River is one of the largest river systems in the world. It is a fascinating and intriguing destination but it is also a pretty tough place to live! The TRUE NORTH has been visiting villages on the Sepik for more than 7 years and during this time we have donated more than 2000 mosquito nets, medical supplies, school supplies, reading materials, clothing and equipment for mending clothes, footwear and fishing gear.
Students at Broome Primary School in Western Australia recently assisted our efforts to support remote schools in West Papua. They worked together to create a design that was then printed onto 500 colourful T shirts and one lucky student, Nic Howson (son of True North Adventure Cruise's director Craig Howson) was fortunate enough to deliver the shirts during the TRUE NORTH's 2015 Raja Ampat Explorer.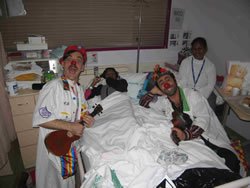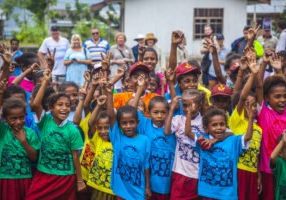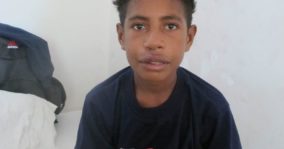 It is not every day that you get an opportunity to transform someone's life. Dennis and Gill Warner from Auckland were fortunate to encounter such an opportunity when they visited Ayau on the TRUE NORTH. Here they met Ruben Dimara. Ruben had a big personality and, a cleft palate. The Warners decided that they'd like…