Amazing PNG with Onboard Marine Biologist Dr Andy Lewis!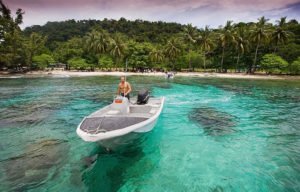 The islands of eastern Papua New Guinea are truly exhilarating and, our Adventures in Paradise cruises are just a few months away.
Our recipe as developed over the last 7 years is simple – take the best adventure cruise vessel in the Indo-Pacific; add 5-star luxury, impeccable crew service, and fine dining; blend with a good dose of Aussie humour, garnish with a $2million helicopter, and finally serve over a panorama of jungle-clad volcanoes, turquoise reefs, and white sand beaches! Bon appetit!!
Download Andy's article: Andy Lewis – Adventures in Paradise 2012 (PDF)
New Adventures in Paradise Cruise