BROOME SINGAPORE FLIGHTS WITH SILKAIR
BROOME SINGAPORE FLIGHTS WITH SILKAIR
SilkAir is set to return with seasonal non-stop service between Singapore and Broome, Western Australia this June 2019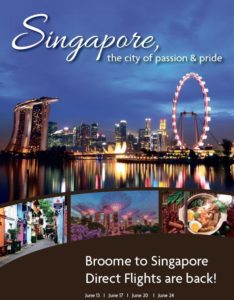 SilkAir, the regional wing of Singapore Airlines, will begin its seasonal service between Singapore and Broome, Western Australia on 13 June 2019.
Flight route will save more than six and a half hours of travel time
Fares are now available through any travel agents, including online travel agents
Following the success of last year's direct flight trial between Singapore and Broome, SilkAir – the regional wing of Singapore Airlines – will return with Phase 2 of the trial flights to Broome starting Thursday, 13 June 2019.
The flights have resulted from a partnership involving the Broome International Airport, Australia's Northwest Tourism, The Shire of Broome and Tourism WA, and have been strategically timed to coincide with several specific events – including school holidays in Singapore, two race meets at the Broome Turf Club (15 & 22 June), and one of Broome's many popular natural wonders, the Staircase to the Moon (18, 19 and 20 June).
These dates will provide a range of options available to International visitors to the North West of Australia (Including Broome & The Kimberley region) who can choose to stay for three, four, or up to 11 nights on a return ticket. Alternatively, they can purchase a one-way ticket and explore WA and Australia further.
The flight route will save more than six and a half hours of travel time; from over 10.5 hours if travellers transit through Perth Airport to around four hours. The first of the SilkAir flights will depart Singapore's Changi Airport at 11.00 a.m., and the flight will depart Broome to return to Singapore later the same day at 4.15 p.m.
The four return flights will operate on four dates: 13, 17, 20, and 24 June, and will run at the same times each day.
 Onward connectivity through Singapore Airline's has been confirmed for London, Manchester, Munich, Frankfurt and Dusseldorf and is available through the GDS.