Celebrating 30 Years of Crew!
Tales from the True North...
Catching-up with former guide, engineer and ship's master Greg Lee Steere.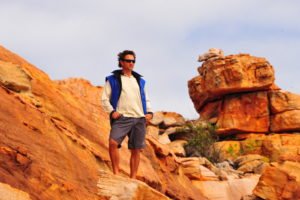 When did you first join True North Adventure Cruises?
I joined the original True North as a guide/engineer in 1998. My first trip was a week in the Kimberley and straight after that we went out to the Rowley Shoals for a week. I was totally blown away. Some years later I came back for another stint as ship's master.
How has being a crew member with True North Adventure Cruises changed?
When I first started we only had 3 crew looking after 12 guests. I always felt Craig was more of a mate than a boss and I guess we did more exploring in the early days. It was always busy and I was constantly in awe of the Kimberley and the Rowley Shoals. My cabin was a swag on the deck under the stars and I loved every minute. As the company vessels increased in size so did the number of crew and guests and everything became more structured and organized although we always tried to allow for a day or two on each trip to explore a new area - so that the guests always felt that sense of adventure and, even today, True North Adventure Cruises continues to explore new cruising grounds which is one of the many reasons they have remained Australia's premier cruise company.
What makes True North Adventure Cruises different to the rest?
I really enjoyed the crew comradery and the way the company promoted positive crew interaction with the guests. The crew on the True North were very different to a big ship crew – of course they always knew when to be in the background but whenever it was appropriate the crew also went out of their way to spend time with the guests. There has always been a family atmosphere on the True North - in fact guests often remark that it's like being invited to share the family beach house! Of course the destinations aren't half bad either!
What are your fondest memories of being on the True North?
I had so many great times and went to so many amazing places during my time with True North Adventure Cruises. I caught my biggest barra on the True North and I became good friends with some outstanding crew. Working with Steve Irwin was a definite highlight – he was the 'real deal' and he was very impressed with our operation. I always got a thrill out of watching how much the guests enjoyed their experiences on-board and of course, I met my partner Tamara on the True North.
What would you say to anyone considering a holiday on the True North?
I can honestly say that the vast majority of the guests who I travelled with told me that their experiences with True North Adventure Cruises vastly exceeded expectation. In fact, even though most of our guests were seasoned travellers, many would comment that their time on the True North was "the best holiday they had ever had!"
Congratulations to Craig, Holly and everyone at True North Adventure Cruises for 30 years of ground-breaking and mind blowing adventure!
Greg Lee Steere
Continue following this blog for more stories, tales and adventures from the past 30 years!