Christmas in Sydney – Too Easy!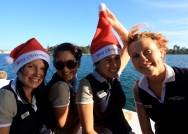 'Jingle all the way' aboard the True North this festive season!
Have you ever discovered just how hard it is to get a hotel room in Sydney over Christmas?
If you're lucky enough to find one – you'll also find that prices are at a premium and that minimum stays are the norm.
But don't despair – there is another option and, it comes complete with all the bells and whistles!
The adventure-cruise ship TRUE NORTH visits Australia's harbour city each year during the Christmas/New year period and on-offer are 2 x 4 night cruises that include all the harbour splendour and, ample opportunity to explore the fascinating Hawkesbury River.
And it gets better – the first cruise departs on Christmas Night ensuring that everybody onboard has a 'ringside' seat for the spectacular start to the Sydney to Hobart Yacht Race whilst cruise two embarks on New Year's Eve and features uncompromised views of the Harbour Bridge fireworks.
And here's the best bit – prices are comparable to a quality shore-based stay BUT all the usual hotel extras such as fine dining, personal service, daily activities (including bush walks, horse-riding, oyster farm tours etc.) and your evening entertainment are INCLUDED!
No queues, no taxis, no dinner reservations, no disappointments – everything on a platter!
Now if that's not the best holiday you can have – here's another suggestion. First time cruisers on the TRUE NORTH can thereafter avail themselves to North Star Cruises' Previous Guest incentive meaning that when they book a cabin on one of the company's longer cruise options – the discount offered will almost recoup the cost of a berth on the Sydney cruise.