Call of the Wild: Exploring Indonesia's Exotic Archipelagos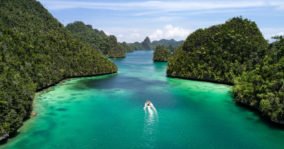 Thanks to an Aussie start in life, the Asia-Pacific region is close to Emma Sloley's heart. However, this time the New Yorker is down-under to explore the unfamiliar - the Raja Ampat ("Four Kings") archipelago in West Papua.
Does your cruise ship have its own helicopter? If not, you might want to rethink your life choices. Just one of Emma's reflections following her time on-board the TRUE NORTH. Read the full story here.