Great Barrier Reef Snapshot (7 Nights)
Great Barrier Reef Snapshot
Gold Coast - Gladstone (or reverse)
A snapshot itinerary including all of your favourite reef activities and, featuring the very best of the stunning Gold Coast! See a different side of Fraser Island in the TRUE NORTH's adventure boats or in the helicopter. Dive the canyons and caves around Noosa or just take a wander around one of Australia's most-loved coastal towns. Seven nights of stylish small-group adventure!
This itinerary is provided as example only – prevailing conditions, local arrangements and indeed, what we discover on the day, may cause variation. Helicopter flights can be purchased additional to the indicated tariff as a package or individually.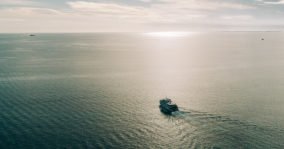 This time we will welcome you aboard the TRUE NORTH on the vibrant Gold Coast and as you sit down for dinner, the TRUE NORTH will set course for Moreton Island.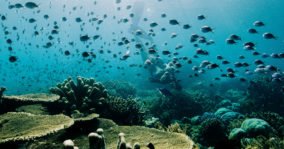 Around Moreton Island, 15 ships were deliberately sunk to create a break water and, an amazing man-made reef structure to delight snorkelers.
Join the crew for a walk to the local lighthouse or grab a board for some action in the surf. The divers onboard will don tanks for a wreck dive on HMAS Brisbane and there will also be time for the first of many chopper flights!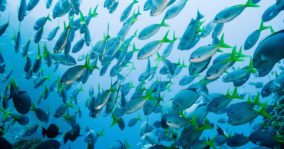 Start the day with an early morning stroll on your 'very own' beach, its nesting season so keep an eye out for turtle tracks!
Divers and snorkelers will marvel at the underwater paradise that awaits in the Capricorn and Bunker group of islands.  Lady Elliott Island is also beckoning and lies in the highly protected "Green Zone". The helicopter will be out spotting manta ray and the divers and snorkelers will be spoilt for choice as the surrounding reef supports great diversity in marine life. A walking tour will also delight - Lady Elliott has been a conservation area for more than 50 years! Two days in this stunning location might not be enough!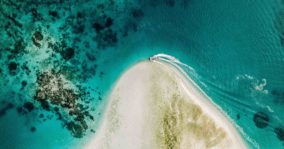 Today we will discover Rooney Point, the tranquil waters of Hervey Bay and Fraser Island.
The traditional owners of Fraser Island, the Butchulla people, call the island "K'Gari, meaning "Paradise" and it's easy to see why!  Today's activities will include taking a dive on HMAS Donnybook, swimming with dugong and a helicopter flight over the largest sand island in the world!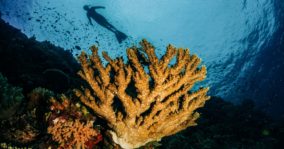 More time to explore Fraser Island and to discover the crystal-clear waters of the Great Sandy Strait.  Fishing, crabbing and sightseeing boats will explore lagoon and reef. Or take an inland tour and visit freshwater lakes, rivers, and pockets of rainforest.
And, as the sun sets on another spectacular day on the Great Barrier Reef, join us for our pearl and diamond party! Enjoy a glass of bubbly
whilst trying on exquisite pieces created by the artistes at Allure, Jewels of the Kimberley, and Kimberley Fine Diamonds.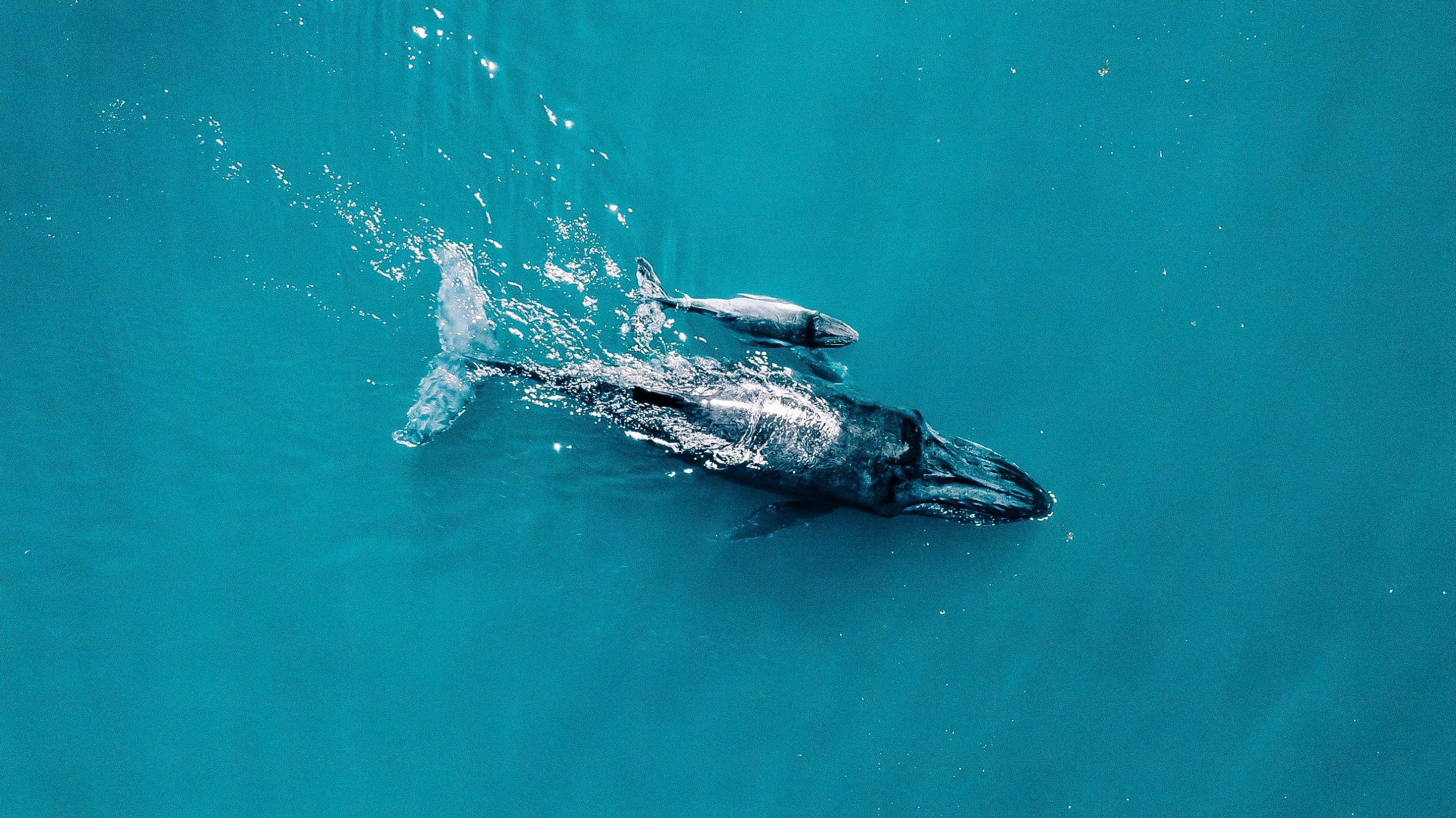 The divers onboard will be up early for a highlight – Double Island Point offers some of the best diving in Australia! The area can be difficult to access by road but fortunately getting there on the TRUE NORTH is a piece of cake!
Schools of shark and playful manta and eagle rays will surely entertain, whilst humpback whales could also prove to be showstoppers!
The surfers onboard can head-off to catch a wave while others stretch their legs with an easy stroll around Carlo Sandblow. The sheer enormity and splendour of the Carlo Sandblow landscape will take your breath away.
Heli-flights over the spectacular Sunshine Coast will round-off today's adventure nicely. Then, marvel at the multi-coloured sands of  Rainbow Beach as the setting sun puts on a colourful show of its own!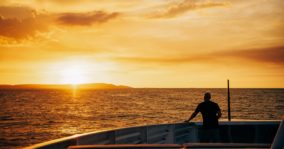 0800 disembarkation in Gladstone.