Forbidden Waters – Signature Travel & Style Nov 2014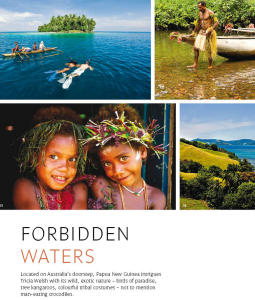 Located on Australia's doorstep, Papua New Guinea intrigues Tricia Welsh with its wild, exotic nature – birds of paradise, tree kangaroos, colourful tribal costumes – not to mention man-eating crocodiles.
With a colourful history of unstable politics, many people have considered Papua New Guinea unsafe to visit… that is, until now.
Through the endeavours of people like Broome based Craig Howson, founding director of True North Adventure Cruises who was first introduced to this northern wilderness by Steve Irwin, travellers are now able to discover its charms – from the comparative safety of the water.
Having pioneered luxury cruising in the Kimberley some 28 years ago with a smaller edition of the now 36-berth luxury adventure vessel, the TRUE NORTH, Howson has introduced two back-to-back 11-night Sepik Soirée itineraries in November and December each year that cruise along PNG's north-east coast.
This cruise ventures more than 70 nautical miles up the crafts-rich Sepik River and then to the far-flung Admiralty Islands, stopping off to visit remote communities that few have had the privilege to visit.
A true adventure vessel
After a two-hour private charter flight from Cairns – included in the rate – the cruises set off from either Madang or Kavieng where guests are welcomed on board by a young 20-strong all-Australian crew. Accommodation is in 18 ensuite cabins over three levels and in three categories.
The top-rung Explorer and River Class cabins feature king-size beds that can be converted to singles, while OceanClass offers two comfortable singles. All are stylish in décor with in-room entertainment and satellite telephone. Days start early with hearty breakfasts before guests who wish to join in activities meet on the well-equipped transom, which becomes Adrenaline Central each morning and afternoon as six steel-hulled expedition boats prepare for fishing, snorkelling, scuba diving, exploration or island excursions. After the day's exploits, guests can relax over drinks in the upstairs lounge with sink-into sofas or on the outside rear deck, before dining at communal tables. There is also an observation lounge and guests are welcome to visit the bridge.
With a shallow draft of 2.2 metres, the 50-metre-long TRUE NORTH was custom built for exploring river systems and coastal waters. She is a true adventure vessel, being able to venture where few others dare.
Please see the following link for the full article: PNG Cruise aboard True North
Sepik River Cruise