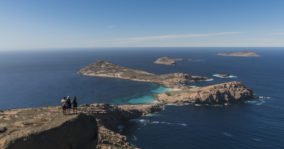 Australia's rugged, idiosyncratic southern coastline offers several perspectives. But whether it's seen from underwater, from the shoreline, from atop a mountain, or from a helicopter cruising at about 300 metres, you hit the jackpot.
Rugged, barely touched and teeming with friendly sea creatures…few places offer oceanic splendour quite like southern Australia. Susan Skelly romances the remote aboard True North.
For further details, read Luxury Travel Magazine's article here.