Meet the Crew!
The crew of the TRUE NORTH are generally young Australians which creates a truly authentic onboard experience.
And our crew are very much part of onboard life – you may even feel as though they are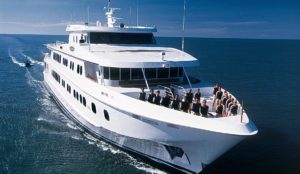 having just as much fun as you are! That's because they are – every day is an adventure for the crew as well and you will not be able to resist their enthusiasm and passion!
Unlike more conventional cruise experiences – crew members on the TRUE NORTH are encouraged to interact with our guests. They will uniquely chaperone your every experience providing assistance, interpretation and genuine company. They will bait your hook and carry your SCUBA tank but they will also join you for dinner and entertain in the ship's lounge. And not forgetting that they will also prepare fine meals of distinction, maintain your cabins with a renowned degree of attention and, safely navigate ship, boat and helicopter to each destination.
Guests on the TRUE NORTH never fail to recognize the outstanding involvement of the crew – they are what makes a TRUE NORTH cruise one of the world's most unique holidays.
About True North Adventure Cruises