Kimberley Northern Atolls (7 Nights)
Kimberley Northern Atolls
Broome - Rowley Shoals - Scott Reef - Broome
Rare opportunity to explore atolls of the far northwest – untouched Seringapatam and Scott Reef! Plus visit one of the TRUE NORTH's favourite coral playgrounds – the Rowley Shoals! And all in a single itinerary!
Snorkelers and divers will discover pristine coral reef teeming with fish, there will be opportunities for whale watching and bird watching and, for leaving your footprints on beaches where few have been before! And for those keen on fishing – there will be opportunities to fish waters rarely fished. Endless blue skies and no crowds! Just what the doctor ordered! Mix in the TRUE NORTH's revered hospitality and destination-inspired cuisine and the Kimberley Northern Atolls is sure to impress!

This itinerary is provided as example only – prevailing conditions, local arrangements and indeed, what we discover on the day, may cause variation.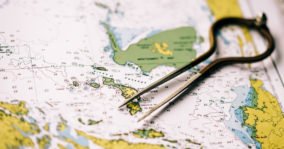 Your "welcome aboard" the TRUE NORTH is in the frontier pearling port of Broome. Embarkation is at 1700 – time for a cocktail with your fellow adventurers before departing at approximately 1800. Dinner is served shortly after leaving port and then enjoy an overnight steam to the Rowley Shoals.
We arrive early at Clerke Reef. Enjoy a sumptuous breakfast before exploring the atoll's huge lagoon. You will marvel at crystal clear waters teaming with life – clouds of fish and corals of every imaginable colour and shape. There will be plenty of opportunity for beach combing on Bedwell Island, relaxed snorkelling in tropical waist deep water or perhaps some "catch and release" lagoon fishing using eco-friendly tackle.
Our qualified and experienced crew will be on-hand to personally introduce everyone to the delights of this pristine environment. And when you are not on excursion, relax onboard TRUE NORTH and indulge in our renowned cuisine – the alfresco bar and lounge will definitely be 'the spot' to witness your first spectacular Rowley sunset.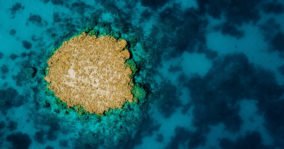 Start the day with a visit to the Aquarium! Forget the Great Barrier Reef – this is world-class snorkelling at its very best! Even if you have never put your head underwater before – this is an absolute must. The water is only waist deep however the experience is literally "out of this world"! Brilliantly coloured corals, giant clams and more than 600 of the world's most beautiful fish species at your fingertips! Don't forget your underwater camera! After another sumptuous lunch try an introductory SCUBA dive or see Maori wrasse and potato cod from TRUE NORTH's back steps! Then we'll "crank up the action" with something very unique – high-speed snorkel drifts through the outer reef! Again, our friendly crew members will be on hand to ensure that everyone gets to try this once-in-a lifetime experience – as many times as you like! Our anchorage tonight is in the "swimming pool like" waters of Clerke Lagoon – 300 kilometres off the coast of Australia!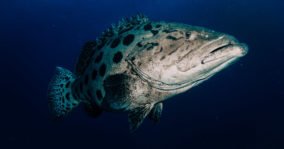 Perhaps enjoy an early morning stroll on your very own sand cay before we enjoy a leisurely steam to Mermaid Reef – the Rowley's northern-most atoll. By now you will be addicted to snorkelling on the outer reef and your wish is our command! We'll spend the day exploring the outer reef of this remote and untouched wilderness – highlights will include face to face encounters with the curious residents of the Cod Hole and, the mesmerising depths of the Northern Wall.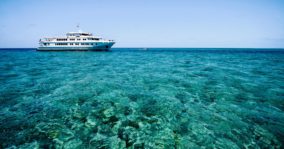 Wake this morning surrounded by the glassy waters of Scott Reef atoll. A group of 4 separate reef structures including Scott Reef South, Scott Reef Central, Scott Reef North and Seringapatam Reef, these atolls are situated on the continental shelf in the Timor Sea, some 300kms off the north-west Australian coast.
The day will be spent discovering the diverse ecosystems of this acclaimed coral habitat. We'll also squeeze in some light game fishing for tenacious mackerel and tuna. Back on-board, join the crew at the Captain's Party!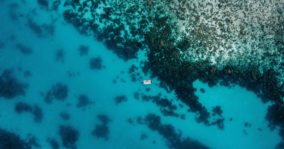 Another day at magical Scott Reef!
Take to the adventure boats for a day of fishing, snorkelling, and diving. Outer reef snorkelling is a totally different experience – the sheer coral walls will take your breath away!
At low tide, visit the wreck of the Yarra, an iron barque that succumbed to the reef during a cyclone in 1884. Despite the treacherous conditions, everyone onboard survived! Then join our knowledgeable guides for some hot fishing action targeting pelagic species such as sailfish, wahoo, GT's and the delectable yellowfin tuna.
But make sure you are back onboard in-time for cocktail hour and, yet another unique dining experience.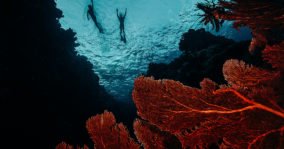 Today we will discover Seringapatam!
Just a short steam from the other atolls, Seringapatam is an eggshaped atoll, with shallow reef flats and a deep lagoon at high tide.
Large boulders, sand banks and much of the reef are exposed at low tide.
Another day of fishing, snorkelling, and diving in this remote and picturesque location that few are fortunate to visit!
All too soon your adventure on the TRUE NORTH is coming to an end – enjoy a farewell dinner to remember as the TRUE NORTH glides south to Broome!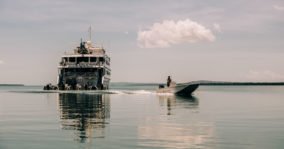 Our arrival in Broome is in time for an early morning coach transfer to your accommodation or connecting flights and, the crew will already be looking forward to their next opportunity to welcome you aboard the TRUE NORTH!