Raja Ampat Explorer (North) (10 Nights)
Raja Ampat Explorer (north) (10 Nights)
Darwin / Sorong – Biak / Darwin
Explore the breathtakingly beautiful archipelago consisting of more than 1500 islands, cays and shoals. See the exotic Wilson's bird of paradise, cross the equator and take part in a mantra ray convention! Snorkel through caves and take guided walks through the jungle! Perhaps it doesn't get any better than this!
Return charter flights ex Darwin ARE INCLUDED in the tariff. This itinerary is provided as example only – prevailing conditions, local arrangements and indeed, what we discover on the day, may cause variation.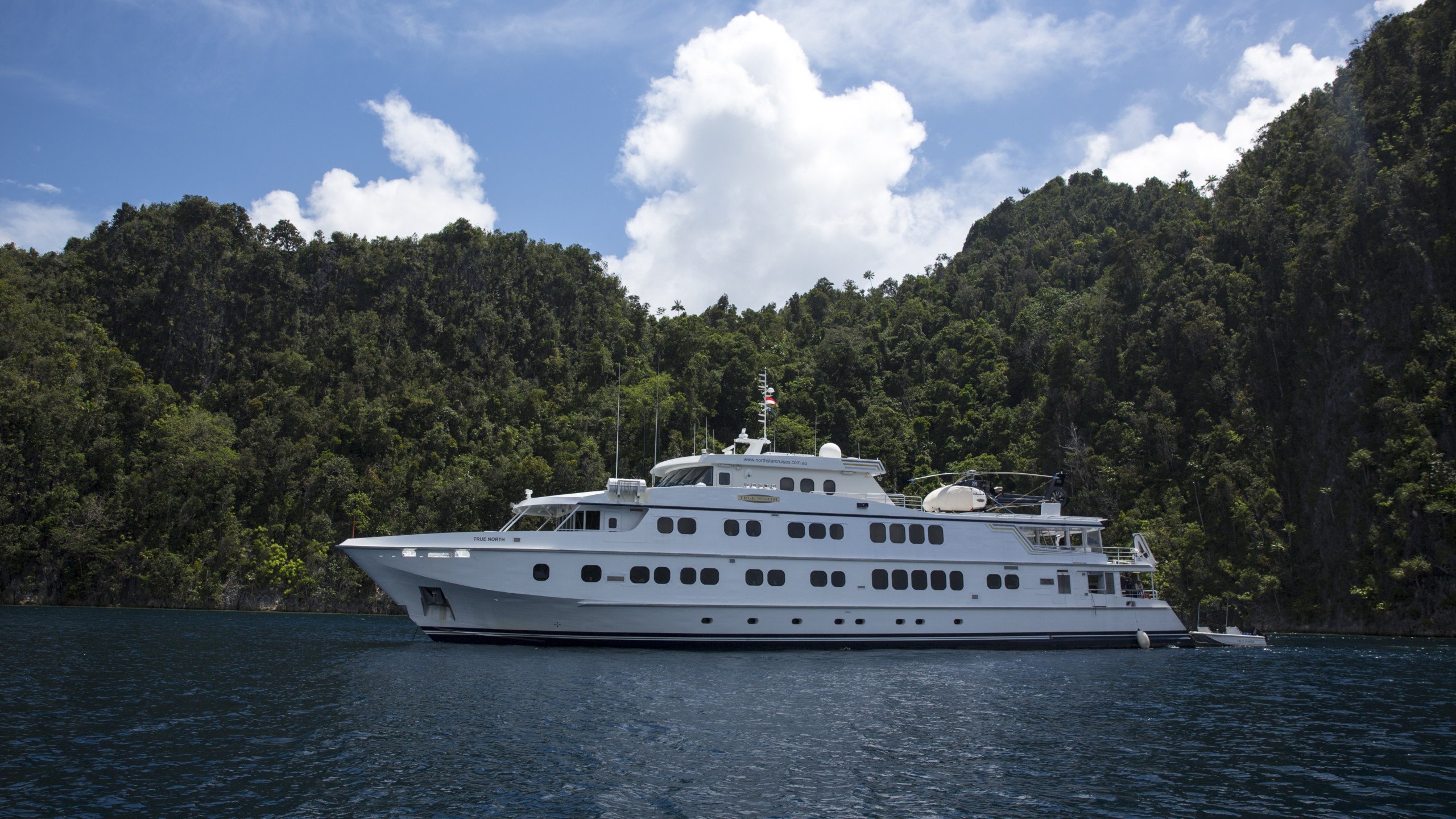 Your adventure begins amidst the tropical charm of Darwin.  After collection from your hotel, join a short charter-flight to Sorong where you will be welcomed aboard the magnificent TRUE NORTH.
Enjoy a welcome aboard cocktail as we cruise to Misool Island and then watch the sun set in a different land before indulging in an equally stunning dining experience!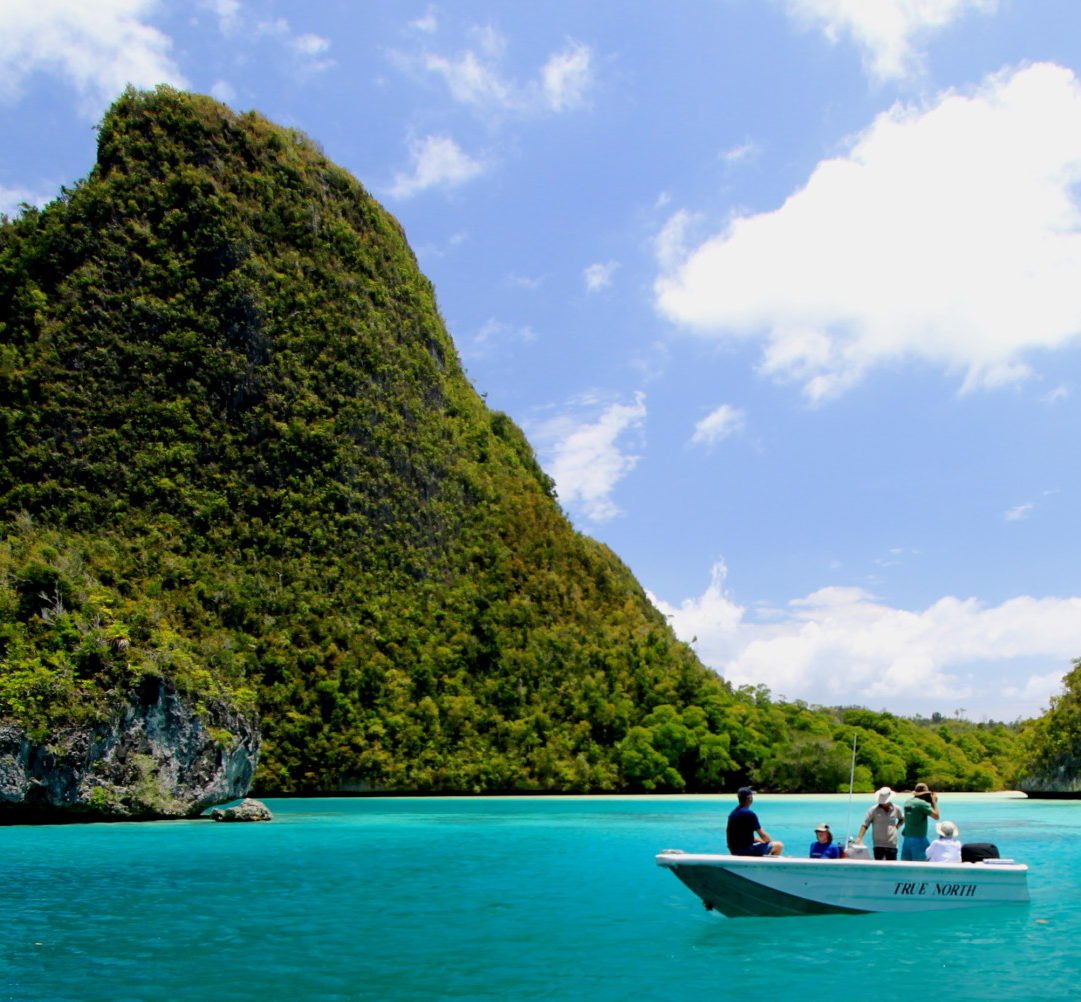 Wake and revel in the fact that you're now in the Raja Ampats –  a global epicentre of marine biodiversity! You'll want to maximize every possible minute in the water – snorkelling and diving is often midst rainbows of soft corals and huge shoals of fish and, testimony to the efforts of those who protect the SE Misool Marine Park.
Take a scenic cruise around spectacular Balbulol Island or enjoy a second dive at "No Contest" (you'll soon see why it's so named!)  Over lunch we'll steam into one of the prettiest anchorages in Raja Ampat – the Mesempta Karst Channels. But the views will have to wait as we are first off for a unique snorkel/float through the sacred Tomolol cave system – a truly awesome adventure.
In the late afternoon join your favourite adventure boat for a TRUE NORTH 'raft-up'. Enjoy a cool beverage and some delicious nibbles as we cruise through the picturesque Karst Islands – don't forget your cameras!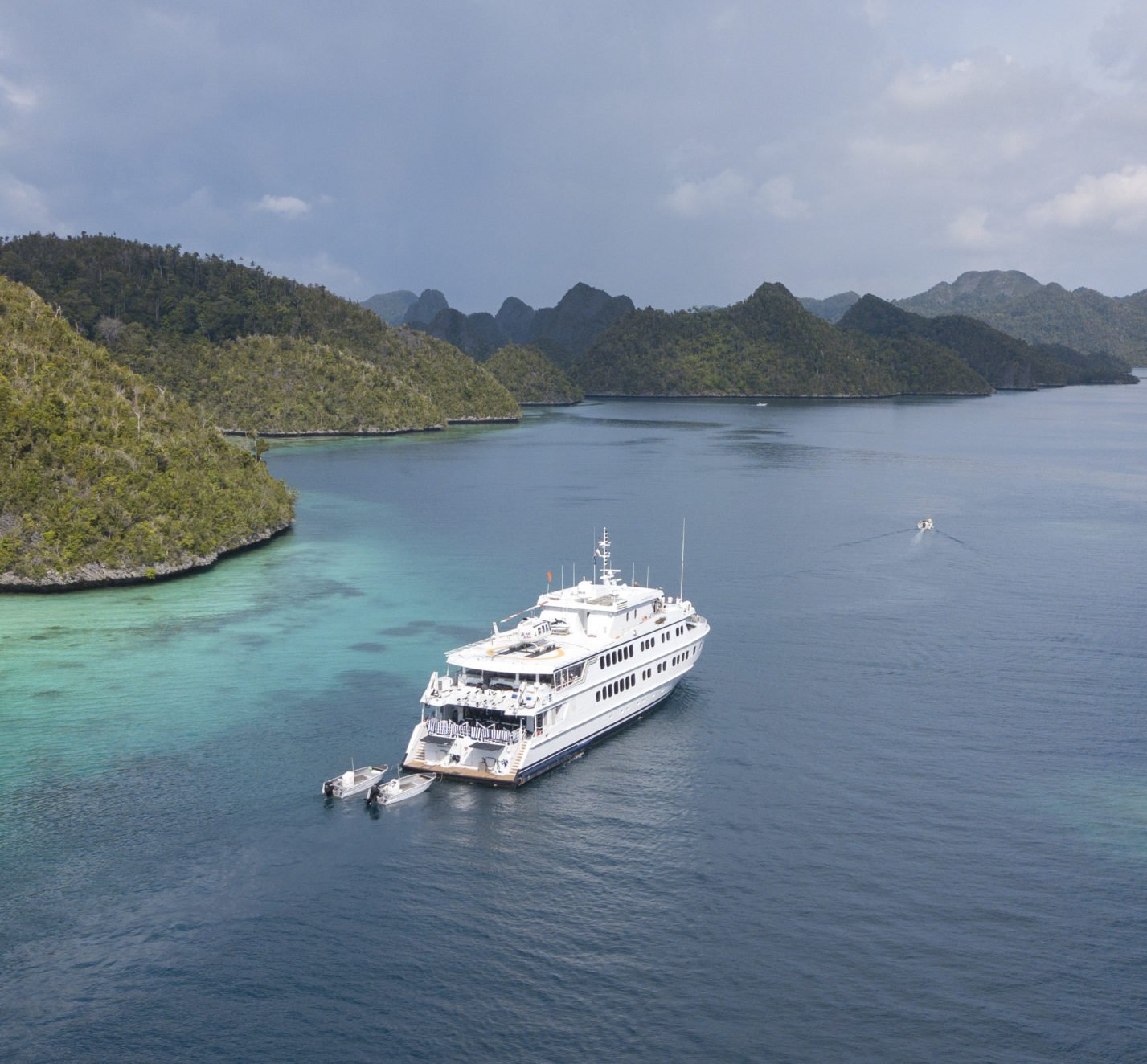 The adventure boats will offer scenic cruises around beautiful Penemu Island and the Yeben Islands boast even more opportunity for beachcombing, snorkelling and diving. For those feeling energetic, enjoy a hike on Pianemo Island and soak-up the panoramic views from the island's highest peak. Or visit a picturesque village and sample the local's relaxed way of life.
Alfred Russel Wallace was a British natural scientist and geographer who voyaged extensively through Raja Ampat from 1854 to 1862.  He is best known for independently conceiving the theory of evolution through natural selection and his paper on the subject was jointly published with some of Charles Darwin's writings in 1858.  This afternoon in the comfort of our adventure boats, you will glide through the winding channel that bears his name. This narrow saltwaterway is flushed by strong currents that produce a vibrant habitat for marine life, whilst on either side the equatorial jungle looms over the water, replete with birds and butterflies, tree ferns and orchids. It is a tropical ecosystem at its most magnificent and it is easy to see how all helped to inspire new insights into the evolution of life on Earth.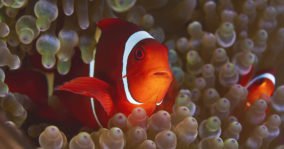 Wake to the majestic beauty of Gam Island in the heart of Raja Ampat. With mesmerizing underwater scenery, white sandy beaches, lush fringing jungle and, the opportunity to see both the red bird of paradise and manta ray – your day will be filled with a variety of visual wonder.
Kri is a long and narrow island that offers some of the Raja Ampat's best diving and snorkelling. In fact, the abundant variety of fish seen at Cape Kri will likely astound! It was here that the TRUE NORTH's specialist guide, ichthyologist Dr. Gerry Allen, smashed his record for the total number of fish species recorded on a single tank dive – 374 species!
This morning visit Wofoh Island – enjoy a breath-taking dive on a black coral forest, snorkel over lush coral gardens or simply laze on a gorgeous white-sand beach (watch out for falling coconuts!).  Later in the morning we'll cruise to the rocky islets of Bougainville Strait and hopefully we'll be fortunate enough to take part in a 'manta convention'! The plankton rich currents around Eagle Rock often attract large numbers of manta rays – jump in and have a swim with these gentle giants of the sea!
In the afternoon we'll take a short cruise to the Equator Islands for a unique opportunity to dive, snorkel or swim across the equator! You'll want to do all in style because King Neptune is watching – and he'll be sure to recount your glory (or lack thereof!) at tonight's infamous Equator Party!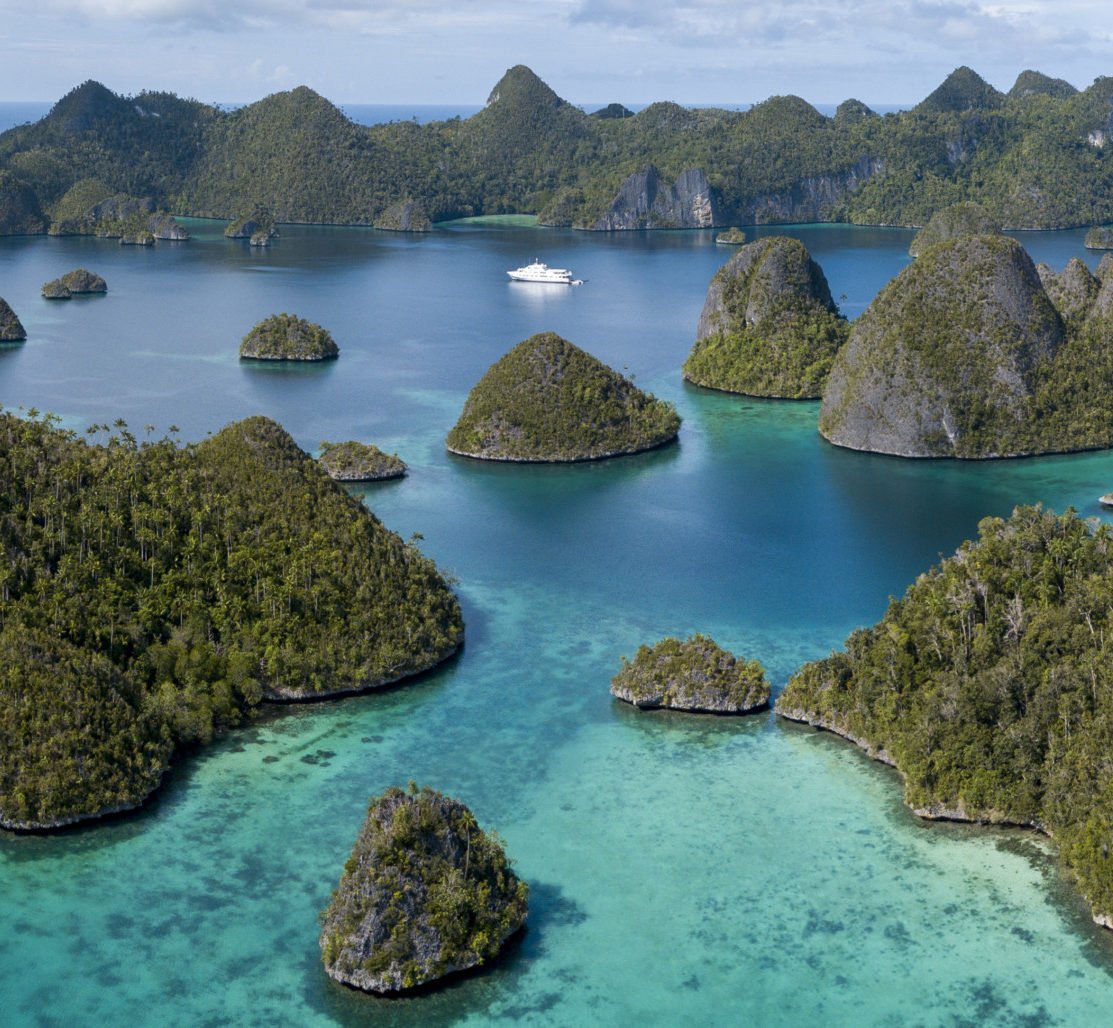 You'll hardly believe your eyes when you first gaze upon the beehive  islands of Raja Ampat's 'poster child' – the Wayag Archipelago.  Snorkel over the abundant coral before we cruise through the lagoon in the adventure boats.
Wake and look forward to a second day in the Wayags! Another breathtaking day of snorkelling, diving and sightseeing! Plus we've got a new activity in mind today as well – get ready for the "Wayag Beach Party". Select your place in the sun (or under a shady palm tree) and let the crew entertain with a sumptuous beach picnic and all manner of aquatic toy! Bizarre island formations, an azure sea and sparkling beaches fringed with palm trees in the foreground of dense Papuan jungle – two days in the stunning Wayags is  never enough!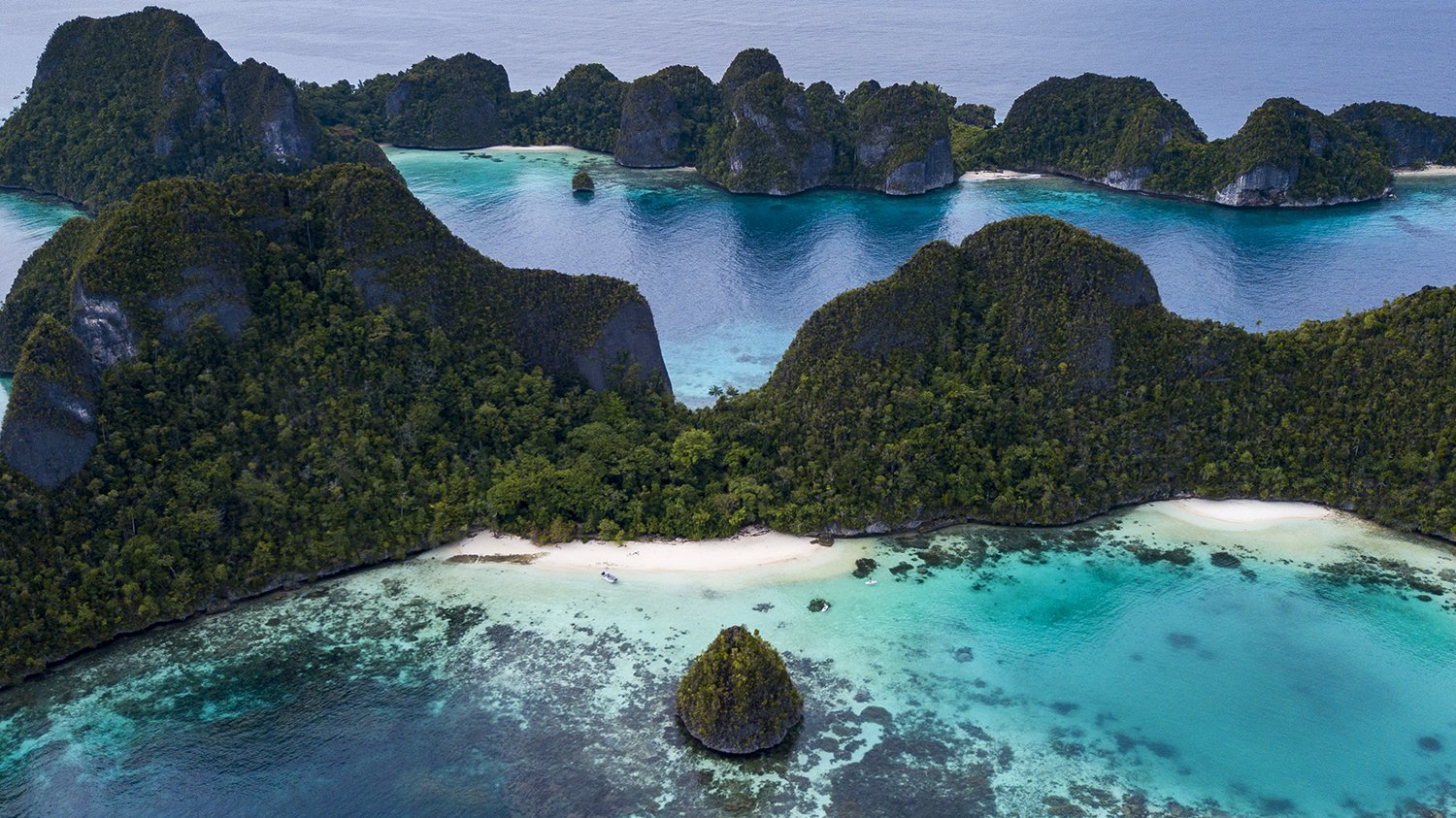 Next we visit Ayau - one of the largest atolls in eastern Indonesia.  This remote and very beautiful atoll was colonized by Papuan fishermen from Biak Island (to the east) over 100 years ago. The Ayau people are skilled at all means of fishing - from collecting edible worms from the powdery-white sand beaches to spearfishing amidst the coral splendour. The atoll is surrounded by crystal clear water that is frequented by large pods of dolphins. The outer-reef drops sharply to over 1000m and clouds of beautiful fish carpet the reef walls.  The adventure boats will be busy as we snorkel and dive at several sites around the atoll or you can head off to the big-blue (outside the Ayau Marine Park) to try your luck at some deep-water trolling.  We'll also enjoy a traditional dance on the island of Miosbekwan – expect some loud drumming!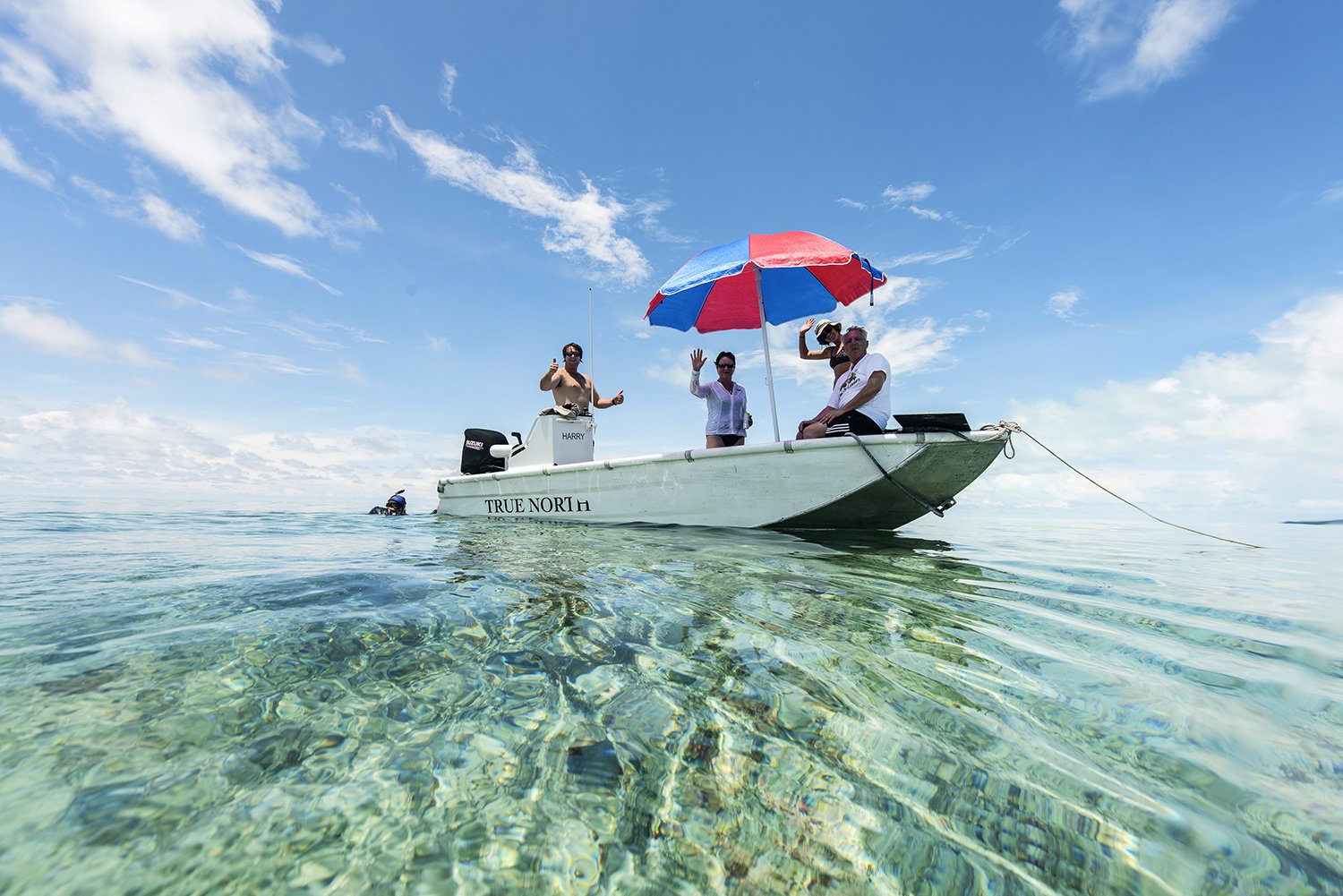 Mapia Atoll is a very remote and exquisite coral atoll seldom visited by tourists. Located north of the equator and lying basically in the middle of nowhere, the atoll presents classic opportunity to indulge in nature's tropical ocean splendour. Vertical walls rise several thousand feet from the ocean floor and come alive with brilliant soft corals, gorgonians, sponges, myriads of tropical fish and a dense population of green and hawksbill turtles. The area also has an enviable reputation for light game fishing! Snorkel, dive and fish to your hearts content!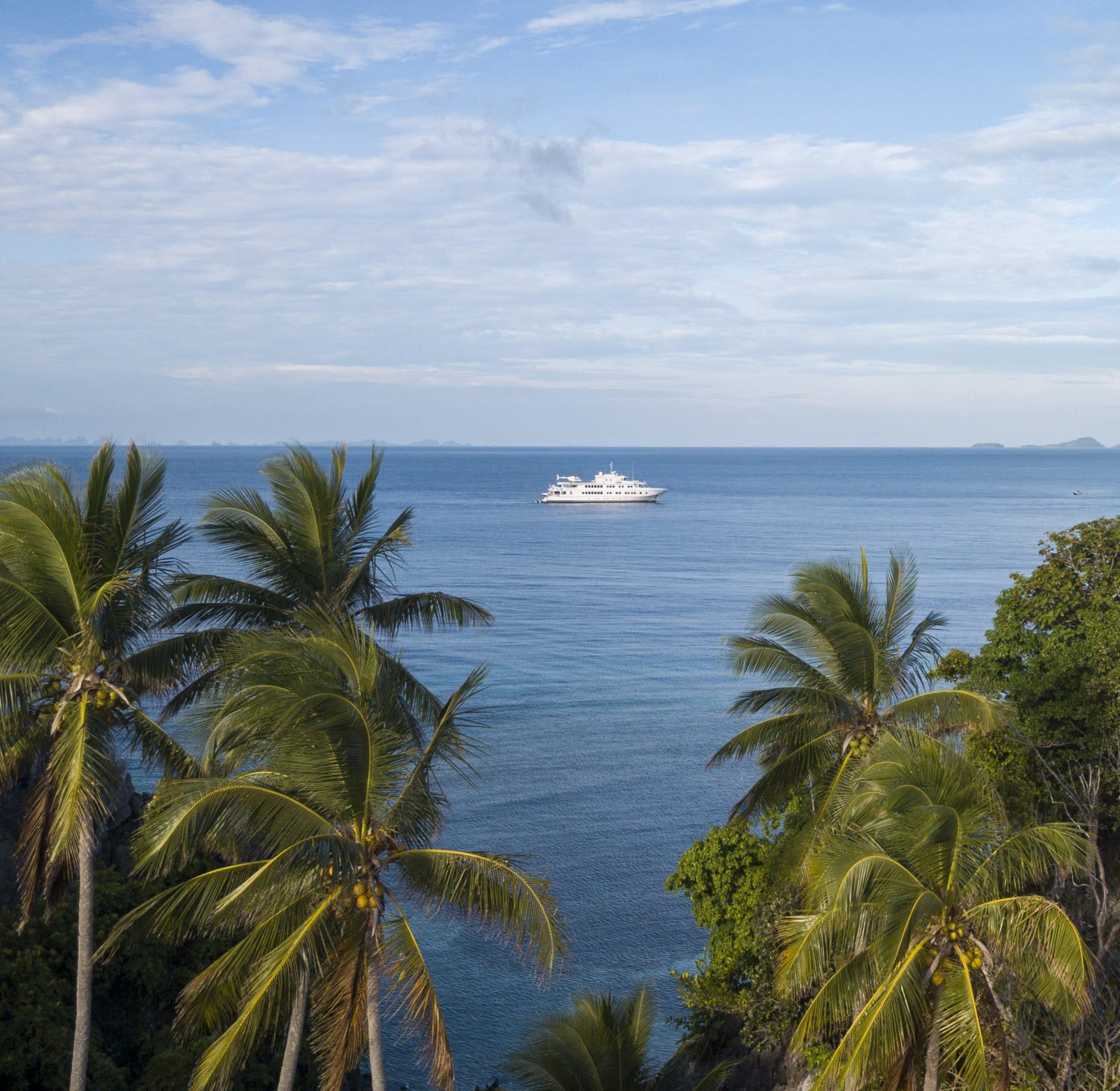 Enjoy breakfast on-board before a private car transfer to Biak Airport and your chartered flight back to Darwin.
"Another confirmation of why we keep returning to have another True North experience. Access to the most stunning remote parts of the world with the wonderful, extraordinary crew. Thank you"
Peter & Gaby
"What an exhilarating trip!! Had everything – Mantas, turtles, beautiful coral, fishes and orca's. Great company – all the guests and once again the crew made it extra special."
Ross & Ronnie