FOR IMMEDIATE RELEASE
23rd April 2017
NEW GUEST LOUNGE FOR THE TRUE NORTH
True North Adventure Cruises has opened a brand new guest lounge in Broome!
Guests waiting to embark or having just disembarked from the adventure-cruise ship TRUE NORTH will now be able to avail themselves to the welcoming surrounds of The Artisan's Lounge – a meeting place for craftsmen and craftswomen of adventure!
The brand-new airline lounge type facility is located adjacent to company's sales office in the heart of Chinatown and will provide a convenient staging point for guests who are waiting to transfer on-board or, for their onward flight.
The lounge features the artwork of revered Aboriginal artist Donny Woolagoodja and the remarkable wood-carvers of the Sepik River and continues the company's long association with art.
The company's brand director, Peter Trembath, commented "The TRUE NORTH has always been a moving gallery of stunning art having in the past featured the work of landscape painters such as Larry Mitchell and Andrew Tischler and landscape photographers such as Christian Fletcher and Ken Duncan."
And the new lounge comes just in time to celebrate the company's 30th anniversary.
On May 26 more than 400 guests will converge on Broome for a gala celebration at the town's historic outdoor picture theatre, Sun Pictures. The event will showcase the TRUE NORTH's stellar history with a feature screening of the company's anniversary movie 30 Years of Adventure, a special guest appearance by local musicians The Pigram Brothers and, keeping in-touch with the town's Japanese heritage – popular local Japanese restaurant Azuki will look after the catering.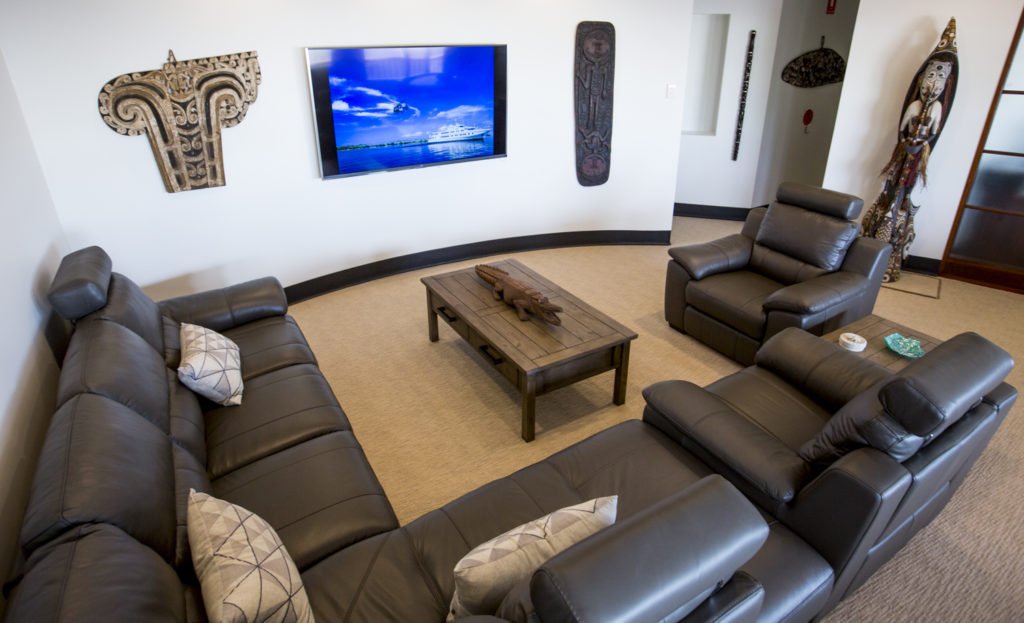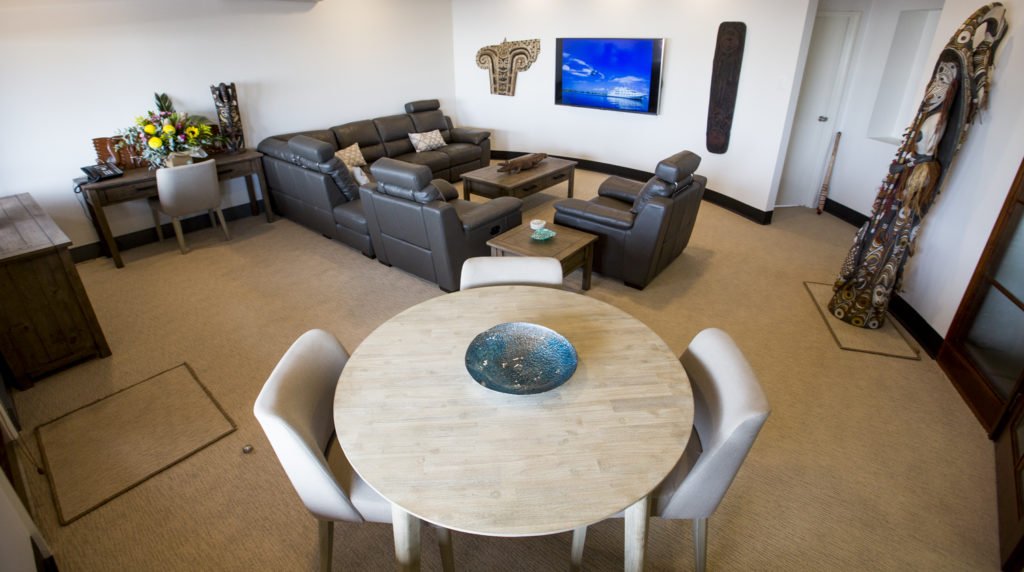 FAST FACTS
True North Adventure Cruises has won a plethora of awards for excellence including state and national tourism awards, export awards and numerous consumer awards.
Australia's premier luxury adventure-cruise ship, the TRUE NORTH is purpose-built to sail deep into the heart of the wilderness, visiting areas that larger ships cannot access. Guests are privy to very-high quality off-ship experiences courtesy of the ship's biologist and a team of naturalists, a ship's helicopter and six dedicated adventure boats.
Exceptional food and wine are also at the heart of a TRUE NORTH experience. The ship's modern Australian cuisine is supplemented with locally sourced ingredients and complemented by an outstanding selection of Western Australian wines. Cabins are spacious and modern; there is a panoramic lower deck dining room, an alfresco bar, an observation lounge and a dedicated sports deck.
Daily activities include scenic walks, fishing, snorkelling, diving, picnics, cultural events and spectacular flights in the ship's helicopter.
Destinations include the Kimberley – a panorama of rugged mountains, spectacular gorges and majestic waterfalls; the still-wild coast of Western Australia featuring the intriguing Abrolhos Islands, world-famous Ningaloo Reef, fishing paradise at the Montebello Islands and, the pristine Rowley Shoals; some of Indonesia's most stunning volcanic islands including Komodo – home to the largest lizard on the planet; the breathtaking islands of the Raja Ampat; the whale sharks of Cenderawasih Bay; the mighty Sepik River and the un-spoilt islands of Papua New Guinea; beautiful Sydney Harbour and, a seafood safari around South Australia's delightful Eyre Peninsular!
RELEASE ENDS
Bookings: Contact True North Adventure Cruises on (+61 8) 9192 1829 or email cruise@truenorth.com.au
Media contacts: Email Peter Trembath at tremby@truenorth.com.au  and/or phone (+61) 41 990 6670.