Luxury Adventure Cruises
Play video and click the Full Screen icon to enlarge
True North Adventure Cruises conducts luxury adventure-cruises all around the Australian coastline and in the stunning waters of Indonesia and Papua New Guinea. An adventure on the TRUE NORTH is one of Australia's most revered holiday experiences.
Guests consistently respond with "that's the best holiday I have ever had!"
Destinations include the Kimberley – a panorama of rugged mountains, spectacular gorges and majestic waterfalls; the intriguing islands of the Raja Ampat; the whale sharks of Cenderawasih Bay; the mighty Sepik River and, the rarely visited islands of the Louisiade Archipelago!
Discover the unique appeal of a TRUE NORTH small ship adventure-cruise – click on a cruise on the below map to view day to day itineraries, cruise schedules, prices and availability.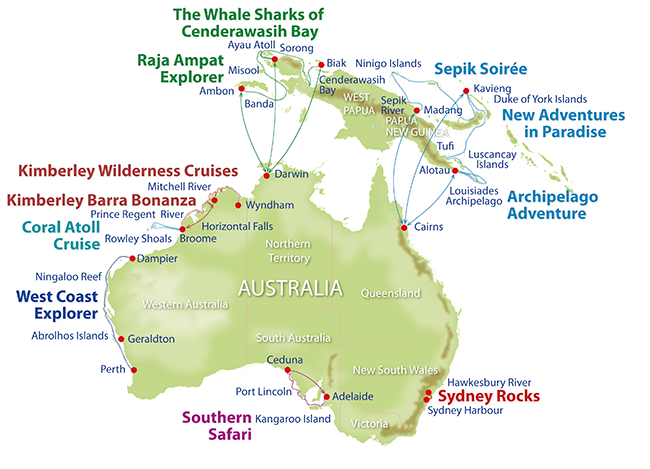 Download: True North Cruise Map (Hi Res PDF, 2Mb)
View Itineraries: Kimberley Wilderness Cruises, West Papua & Papua New Guinea Cruises or Australian Coast Cruises
Departure Dates